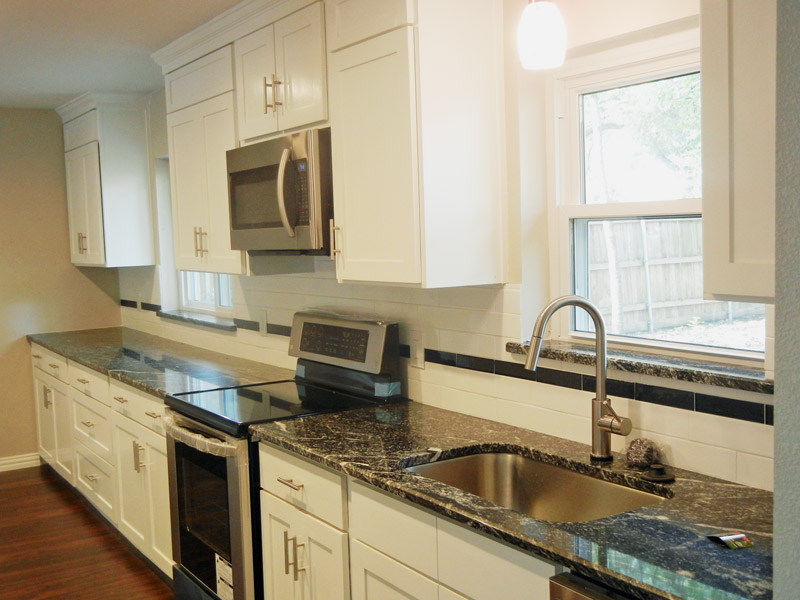 Have you been thinking of updating your home?
We spend so much of our day in the kitchen, making it one of the most important rooms to consider when revitalizing our space. However, it can be tricky to come up with ideas — particularly when our kitchen is a small one, to begin with.
If you need some inspiration, look no further! Keep reading on to discover our top small kitchen remodel ideas so you can make a start on a remodel sooner rather than later.
Consider a Streamlined U-Shaped Kitchen
Small u-shaped kitchen remodel ideas are some of the best when it comes to renovating your kitchen, as they allow you to use the space efficiently and fit plenty in. It's something that a kitchen remodeling service like ours can help with too.
These kitchens make use of three adjoining walls all lined with cupboards, cabinets, and counters, and free up floor space as well as making it easy for you to find what you need. Meanwhile, if you add cupboards with integrated handles to your u-shaped kitchen, you can make it look less cluttered.
Update Lighting
One option when it comes to kitchen lighting is to get an eye-catching piece of statement lighting. It's sure to keep the attention of visitors — when you've got such an amazing piece of lighting, who'll be thinking about the size of your kitchen?
Alongside your statement lighting, task lighting can be particularly effective in a small kitchen. You can install it over the sink, for example, or a countertop. They'll brighten up your kitchen a little, and won't take up any valuable space.
Get Backless Stools
In a u-shaped kitchen, your counter can double as a table or bar. Backless stools are easy to fit under the counter so they won't take up too much space when not in use and offer an efficient way for you to sit down when in the kitchen too.
They come in all sorts of designs and colors, so you're sure to find some that complement the rest of your kitchen well.
Try Mirror Walls
When dealing with a small condo kitchen remodel, mirror walls offer a way for the room to feel a lot bigger than it really is. They amplify the light too, making your kitchen appear more bright, and as a bonus even protect the walls from heat damage.
Flow With Bright Colors
A darker color scheme will make a small kitchen feel tiny. Instead, go for light, bright colors.
White is a great one to start with, as you can then add different colors here and there through small appliances and decorations.
A good idea too is to create a sense of visual flow through small spaces. If your kitchen shares a space with your living area or dining room, a similar color scheme will blend the whole area and make it feel bigger.
Get Started With Our Small Kitchen Remodel Ideas
These are just some of how you can plan out your very small kitchen remodel. However, you might have some more thoughts.
Why not contact us at GP Homes and Repairs to discuss your small kitchen remodel ideas with us, or have a look around our blog for more advice? We'd be happy to help you.