Transforming your Lavon, TX home's aesthetic, enhancing your interior design, and improving your abode's appeal is made possible with . Whether your appliances are outdated, your countertops are scuffed up, or your cabinets are looking worse for wear, we can makeover your kitchen with our tried-and-true remodeling services. Receive your free quote, learn more about our services, or schedule a consultation by giving us a call today.
About Our Kitchen Remodeling Services
Why Remodeling Your Kitchen Is A Good Idea?
It's no surprise that homeowners remodel their kitchens to increase the value or marketability of a property. A kitchen with an attractive, well-fitted design will appeal more than one which is outdated and lacks curb appeal for prospective buyers in today's competitive real estate environment - especially if they're looking at homes priced under $300K! This means you could recoup some expense when selling your home if it was recently updated by refitting things like countertops material (granite/ marble), backsplashes color choices, etc. Another good reason for a is the deterioration of your current kitchen. There are cracks in the tiles and peeling countertops! What will you do when there's more than one problem with this room? It'll put a damper on dinner parties or family gatherings - no matter how many times we replace our appliances every few years.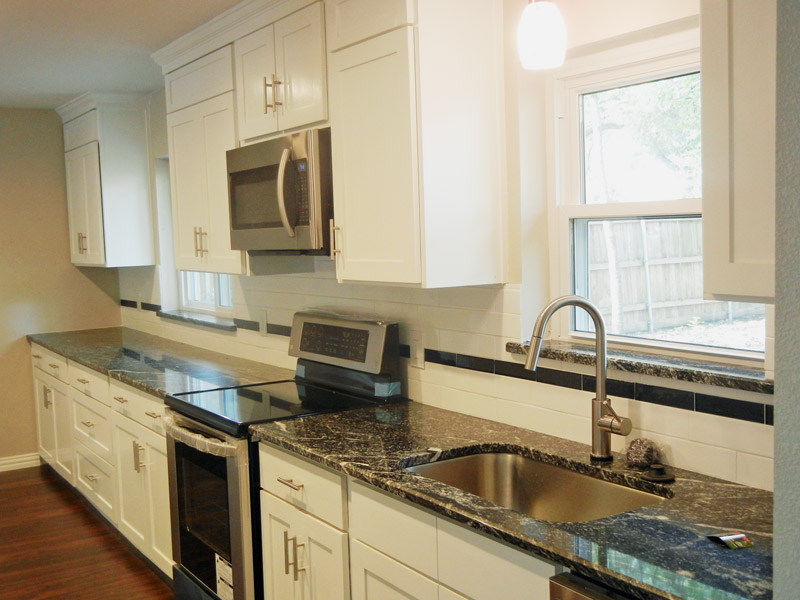 Before You Start The Kitchen Remodeling Process
A typical kitchen remodeling process looks like this based on our experience as a contractor in Lavon, Texas.
1- The goal of the remodel
Defining a goal will help you share your vision more clearly with your contractor. Make a list of things that are important such as creating more space, increasing the home value, improving the look and the functionality of your kitchen, etc.
2-Design the dream kitchen
Think clearly of what you really want. For example, what kind of layout works for you? If you're not sure what your options are, explore the pros and cons of some tried-and-true kitchen design layouts.
3-Decide on the materials
Select materials that are functional, aesthetically pleasing, and that will suit your budget. Remember that this is an investment, and cutting corners here can make you unhappy with the final outcome.
Why Choose GP Homes and Repairs
Family Owned & Operated
All Work Is Performed By Our Team
Local, Licensed & Uniformed Contractors
AlwaysOn-Time and On-Budget
5-Star Google and Yelp Customer Reviews
Free In-Home or Business Estimates
FREE 2-Hour Design Consultation With An Interior Designer
How To Choose A Kitchen Remodeling Contractor?
When you choose a kitchen remodeling contractor, think about how a company hires its new employees. They do not pick the first applicant that walks in the door for their job as a cook or dishwasher; instead, they collect applications from many candidates and examine each one thoroughly before making an offer of employment. So when you're looking for a kitchen remodeling contractor, be sure to do your research! You want the perfect contractor with experience and knowledge. Make sure they have plenty of references available as well as an honest reputation in case something goes wrong or if there's an issue down the road when maintenance needs attention on one part of its construction...
More About the GP Homes and Repairs Family
GP Homes and Repairs is a family-owned business servicing the Lavon, Texas, 75166 area. We specialize in all aspects of home remodeling and home improvements such as deck and fence restoration, interior, exterior painting, and much more. We are fully insured and licensed contractors with an impeccable reputation. With our remodeling services in Lavon you can enhance your abode's aesthetic while modernizing your home's interior design. In Lavon home values have been increasing. Remodeling will raise your property value significantly. A room addition or a garage conversion will add living area square footage and automatically raise the value of your property.
Our approach to clients is 'Treat Others Like You Want To Be Treated Yourself'. The owner personally gets involved in every project and does a lot of the work himself. He will take the time to communicate with the client and understand their needs and goals. If the client wishes, He will gladly help select the paint color or any other finishes required. You can not get this kind of personal service in the big box stores or large chains.
Give us a call today at 469-457-4493 and tell us about your project. We will be more than happy to help you.