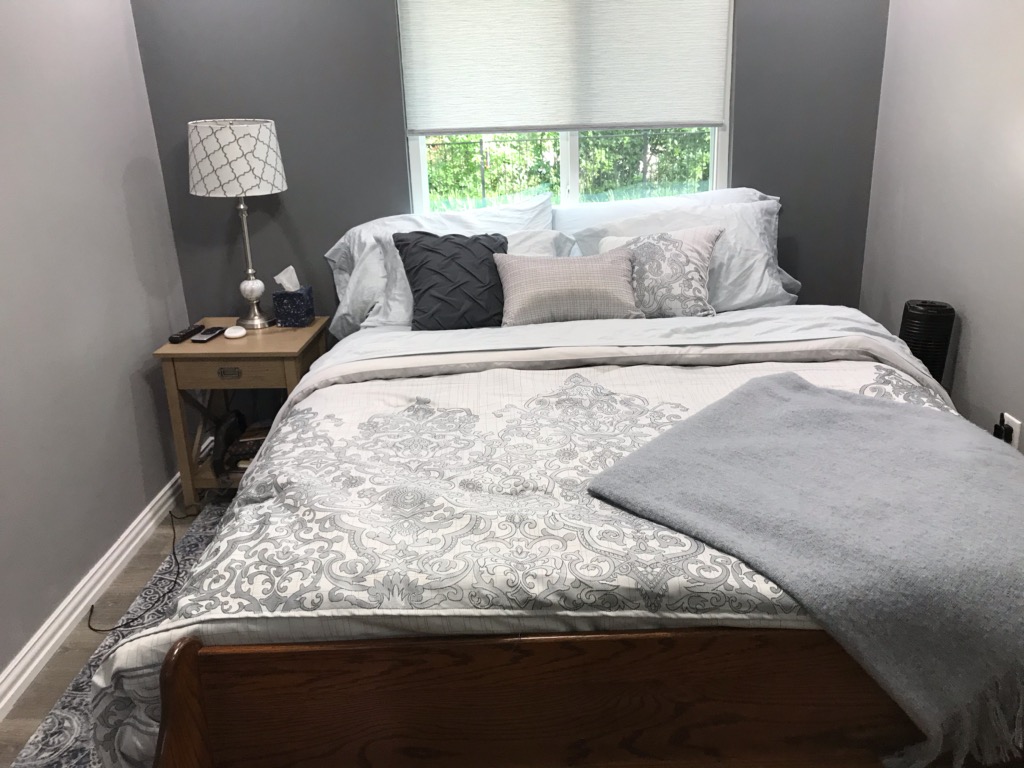 In this project, we converted the garage into a mother-in-law suite. The layout of the suite has a bedroom with a closet, bathroom, full kitchen with built-in dining space, and living space. Our in-house architect designed a plan and we worked with clients to perfect it to their liking. The project required numerous permits including building, electrical, plumbing, concrete, framing, insulation, HVAC, and brick/siding permits.
While in our minds everything would fit, we found it challenging to fit all clients' wish list into 400 square feet of garage space. We worked hard to make a warm and inviting space and customized it totally to the client's wishes and needs. We truly enjoyed working with this client, as she was excited and involved in the project. It was a pleasure to built for her a cozy space right next to her grandchildren.
The construction started with raising the garage floors to the house level. We then removed the garage doors and framed a new wall. The bedroom and closet are behind this new wall, so we installed a window and a sliding glass door. To save space all interior doors are sliding doors. We insulated all garage walls and ceiling and installed spotlights throughout the space. We also installed high-engineered laminate flooring and all tiling.
We worked with the client to select kitchen cabinets, quartz countertops, backsplash, and appliances. The client chose a built-in one drawer dishwasher. This had to be planned ahead to fit into the cabinet. We installed the dishwasher as well as other high-end appliances. We helped the client choose tile for the bathroom flooring and shower. The shower has a built-in bench, shampoo niche, and two showerheads. The client had requested that the shower be wheelchair accessible. So with help of our architect, we incorporated accessibility in the bathroom as well as other areas within the suite.
We did a follow up a few months later to see how our client is doing in the new space. She was overjoyed to see us but also couldn't stop telling us how much she enjoys her space. She even said that her daughter is now jealous of the suite. We did get a call from the daughter a bit later to remodel her bathroom
Before
After