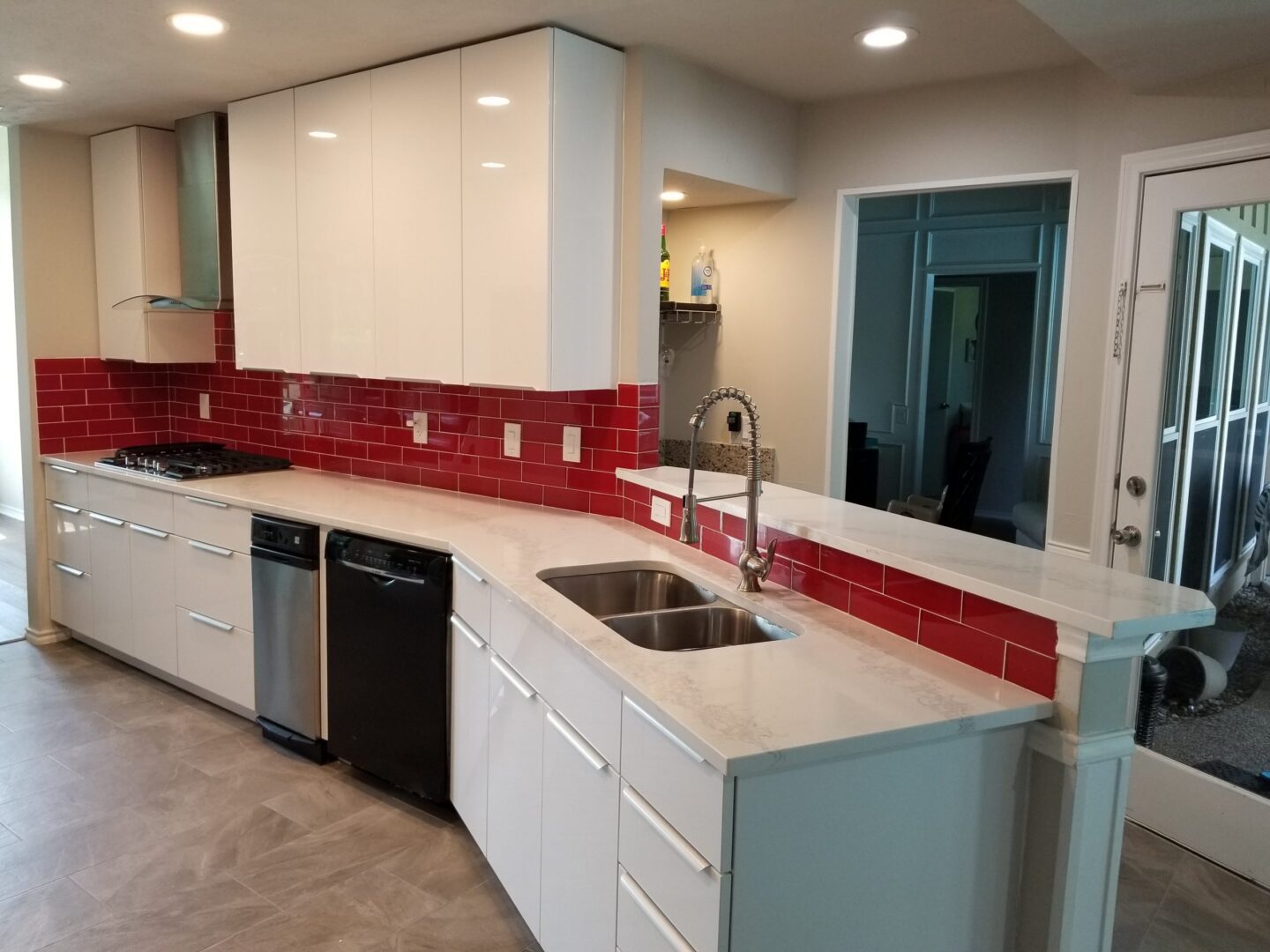 This project started out as a bathroom remodel and about half way through, the client decided to remodel the kitchen as well. Because of this being a late decision we had to move quickly and efficiently to meet our deadline.
First we worked with the client to establish their goals and needs for the kitchen. This involved removing a wall that separates the kitchen from dining. Removing this wall also meant that the double ovens, microwave and pantry space had to be relocated. After a few meetings with a cabinetry specialist the plan was worked out and now began a waiting game for the delivery. While waiting the client decides that they also want to change the flooring in the kitchen to a different tile. The trick was to find the right tile to go with existing backsplash. We helped them to narrow the choice down to two options.
The cabinets arrived. After installing them and quarts countertops we left the client to finalize the floor tile selection. However they were struggling with the choices, they felt that current backsplash clashed with quarts countertops and the floor tile they wanted. They asked if we would be able to change the backsplash as well in a few days remaining to our deadline. So we went back to the drawing board. The smooth lacquered finish on cabinets really brighten up the space and gave a kitchen a nice shimmer, the dark gray natural patterned tile grounded the overall space, so the backsplash either needed to match the shade of gray or be completely different. And so we went with completely different – a red glass tile. When we brought a sample to the client everyone was awed at how well it brought together the sleek cabinets with white/gray quarts and floor tile. And while this was rather a 'daring' decision the client agreed to the red tile.
With only few days to our dead line we worked hard to reach our goal and make this client happy. The final product is spectacular! The glass red backsplash in this custom kitchen pops really nicely and adds spunk to the overall feel. It really brought this kitchen together. We added door pulls that attach at the edge of doors in order to not disturb the beauty of the cabinets. The new floor plan also added additional storage and more countertop space. Our client loves his kitchen! And loves to buy red items to accessorize it with.
Before
After