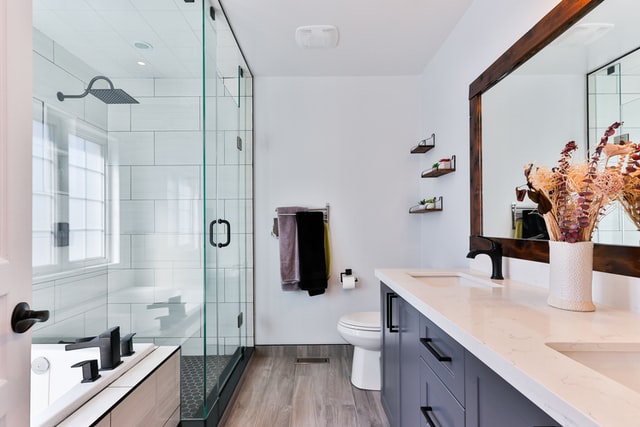 The bathroom vent fan is one of the central items installed in many bathrooms. It clears bad air and odors out of your bathroom. While this is the main function, it does a little bit more than that.

Read on to learn what bathroom vent fans are for and why more people incorporate them. You may need one soon for your bathroom remodel.

Why Bathroom Vent Fans are Essential

It is essential to have a bathroom vent fan for proper overall maintenance. The first is for clearing out bad odors, fumes, vapors, and unwanted air out. It also clears out excess moisture. Balancing the dryness in the room keeps the internal air regulated and has many advantages for its surroundings.

It also has other understated functions apart from proper air ventilation. Keeping out excess moisture maintains walls, tiles, and the space dry. Essentially, it maintains the integrity of the build. 
Another important element is avoiding the buildup of humidity in a space that is often the perfect breeding grounds for mold, fungi, microbes, and bacteria. The vent keeps your bathrooms clean and dry.
Proper Vent Fan Specs

Installing a bathroom vent may involve specific building and bathroom specifications, such as the CFM or cubic feet of air per minute ratio, the correct vent fan size, and the square footage of the bathroom. Each state may have standards, so please bear this in mind before shopping for your bathroom and home additions.

When installing these vent fans, remember to use the same 120-volt fixture connections for ceiling lights with a network connection that leads to a wall switch. It is the readiest type of circuit in most bathroom configurations.

It is also important to position the vent properly, considering entrance and exit points. Your fresh air entry should preferably be an open space free from smoke, dust, and odors to provide you with fresh, clean air to circulate. The exit can lead to an exhaust going to your HVAC external vents or exiting the opposite side with no windows or doors nearby.
Bathroom Fan Types: Traditional to Conventional

You have several choices in bathroom fans. Some models perform the basic functions that fit most residential and office use in varying sizes. There are industrial strength fans for bigger corporate bathrooms. Home addition contractors may suggest specific models that are cheaper with the same quality or a more appropriate classification.
There are also hybrid models with added lights or a heat lamp for dual-purpose installations. The more modern models even include Bluetooth functions to help you stream from your phones or tablets and play music in the comfort and privacy of your bathroom.

Two important elements you need to remember, however, are the fan sound ratings and the fan capacity. Depending on your preferences, you might want to stick to fan ratings of 1.0 or below. Make sure to test the noise level at the hardware store before buying.

For the fan capacity, ideal settings depend on the square footage of your bathroom—the level of its CFM or cubic feet of air per minute against the area size. If the room is less than 50 square feet, it is 50 CFM. If your bathroom is greater than 50 square feet, it's 1 CFM per square foot extra. Remember to check for HVI Certification, too, which signifies adherence to standards and quality performance.

The Bottom Line
The idea of having a proper bathroom vent fan that has Bluetooth capabilities may be new to many, but most of us don't know a lot about vent fans today, including the important features we may not know we need. Your bathroom experience should be as clean and convenient as possible, and only the best fans can provide that.

Your next upgrade and house renovations need a certain level of know-how and guidance. Entrust the process to GP Homes and Repairs for your bathroom remodel in Plano, TX. We are local-listed home addition contractors that can perform all renovation work needed. Call us today to learn more.